swaporamarama

Swap O Rama Rama was a success! We had 101 people attend.. not bad for our first year! Click the picture above to read the Tulsa World article. How lovely to see one of my dresses on page 2 of the newspaper! If you want to know how Swap O Rama Rama Tulsa went, check out some of these blog posts from some of the ladies that came.
We had a BUNCH of leftover clothes which were dropped of at Youth Services of Tulsa on Monday. When I attended Swap O Rama Rama in OKC, I was so inspired by the awesome community of crafters who came together for the event. It was a neat blend of people and I'm so pleased that the Tulsa community supported our first try at such an event. Fox 23 and Channel 2 came to the event and did interviews and we had so much media support. I'm also really happy to have somewhere like the Collective to let us use their space and help out with these events. And Colleen is a super poster-maker!
Here are pictures from Tulsa's first Swap O Rama Rama. I can't wait to do it again next year!
This is probably my favorite picture from the day! The lovely Holly of
sweetheartville
, with her precious little girl. Photos below by Justin Dotson.
Brigid looking adorable in a dress refashioned by Tara Mason.
Setup before everyone arrived. Photo by Tara Mason.
A few pictures from Brigid…
And the rest of these pictures were from my phone. I'll upload all the pics to the Indie Emporium myspace soon, and maybe even to flickr if I get motivated enough.


Please join me tomorrow at the Collective for Swap O Rama Rama Tulsa. We had some great press this week. Brigid was interviewed on Good Day Tulsa, and OklaTravelNews. Tulsa World published this article yesterday on Page2 of the newspaper!
We'll have 6 sewing stations, some screen printing/stenciling, and other fun projects. The swapping and sewing will take place from 1-6 and at 8 pm we will have a fashion show and live music by Low Lita and Tops of Trees.
So exhausting that I'm not even making full sentences. A recap.
Midterms. 1 done, 2 to finish before Monday.
The husband's grandfather taken off of life support and passes away.
8 hour drive to houston.
Fever. Headache.
Funeral.
Swap O Rama Rama plans.
Tune in to Good Day Tulsa tomorrow to see Brigid talking about Swap O Rama Rama. And.. we should have a Tulsa World article out sometime this week! More later.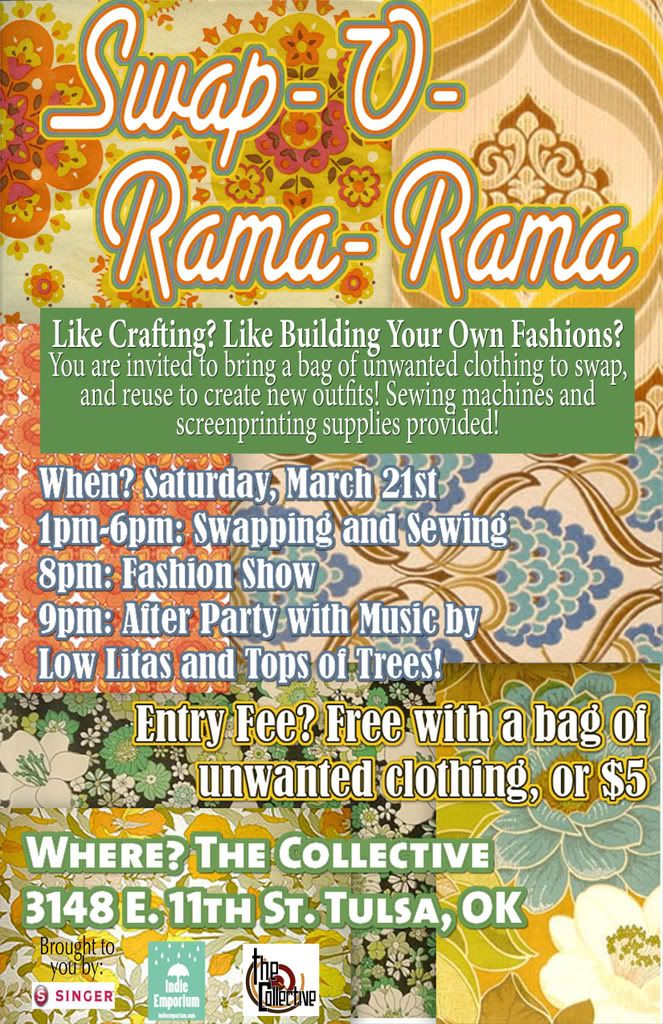 I've been busily working away in my studio for the past couple of days and things are progressing nicely. So many things were just tossed in there during the busy winter months and I'm finally clearing out all of the non art/craft related things and making a space where I can actually get some work done. My Christmas gifts from my lovely husband were mostly related to studio organization, so soon I'll be hanging my pegboards and getting the rest of things where they belong in the coming days.
In other news, I'll be organizing Tulsa's Swap O Rama Rama. It will take place on March 21st at the Collective. More details to come soon.. I leave you with a photo from the Swap-O-Rama-Rama that Tara and I participated in last spring in OKC.